OCAL 3.0 Electronic collimator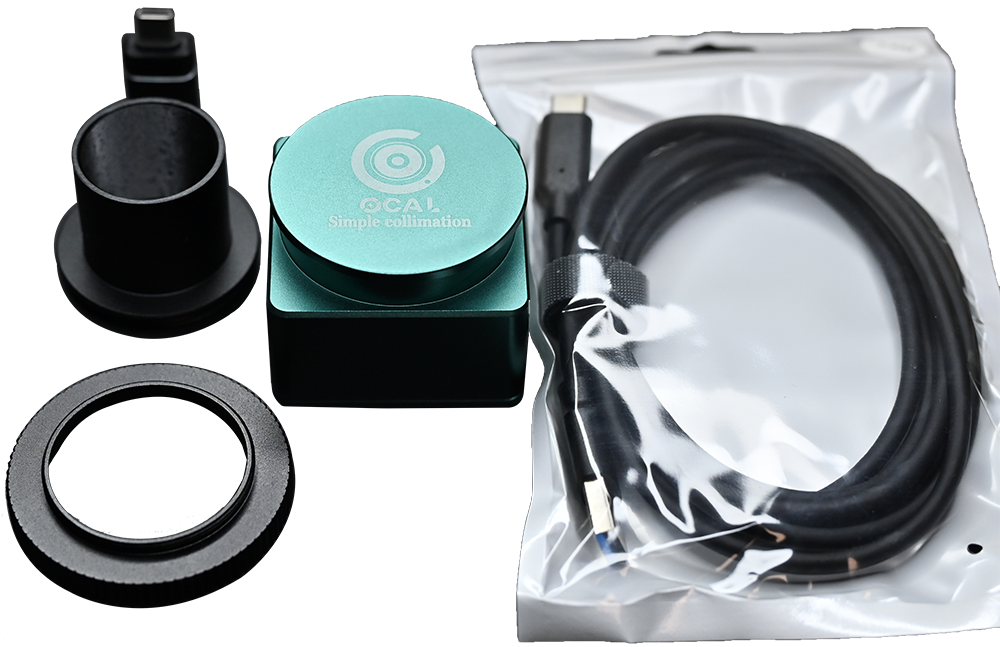 The collimation problem of the reflecting telescope is a problem that astronomers must solve.OCAL electronic collimator is an electronic device developed by Chaoxing Astronomy to calibrate the collimation of reflective telescopes. Its main function is to mark several calibration circles through software to achieve the purpose of collimation.
The OCAL electronic calibrator has the following features
1、Each Collimator has perfect pixel level accuracy in our high quality control. 2、Installing the collimator by M42 threads minimizes the install error. 3、The collimation errors may cause by different visual axis of human eyes in the traditional collimation tools. It can be total eliminated by OCAL. 4、The product can solve the problem of collimating large telescopes, with the assistance of collimation result shows on screen immediately. 5、4 steps collimation by this product. It is easy and suitable for everyone. 6、You can share your collimation result by screenshot. Or sending your collimation screenshot to us to get technical support. 7、Compared with the 2.0 optical axis calibrator, the OCAL3.0 electronic optical axis calibrator has a greater breakthrough in hardware.
OCAL3.0 electronic collimator has the following three advantages over the second generation OCAL electronic collimator:
1、Brand new large aperture lens and CMOS, with the same ambient brightness, the exposure time of OCAL3.0 electronic collimator is only 1/20 of the second generation electronic collimator. Now the new calibrator can be used in darker environments Adjust the telescope to be collimated. 2、The clarity of the OCAL3.0 electronic collimator image has been greatly improved. Now you can see clearer primary mirror marks and more reflection information, and it still performs well when equipped with a correction mirror. https://www.youtube.com/watch?v=Hw9lqDrLTzM 3、In the future, we plan to release a high-end 3.0MAX version. We have completed the theoretical design work. The new version has been specially designed. In theory, it is possible to use manual adjustments to the chip tooling on the optical equipment. The MAX version will Mainly dealing with small focal ratio telescopes, this is our challenge for higher goals in the future.
OCAL 2.0 electronic collimator PC version
OCAL 2.0 electronic collimator PRO version
OCAL3.0 electronic collimator
Support windows system
YES
YES
YES
Support Android system
NO
YES
YES
Adapter accessories
NO
YES
YES
Clarity
Generally
Generally
High
Aperture size
Small
Small
Big
Collimator accuracy
Generally
Generally
Slightly improved